Fried Crispy Noodles with Chinese Pork & Vegetable Stir Fry Serves 4-6

Why order takeaway when you can enjoy a fantastic, fresh stir fry chock full of goodness at home? This stir-fry requires a little planning ahead. The Chinese BBQ pork can be purchased from any Chinese BBQ meat shop or substitute leftover BBQ chicken. The noodles can be pre-cooked in the oven earlier in the day and then reheated in the oven to re-crisp them just before serving. Be sure to soak the dried shiitake mushrooms for about 1 hour before using so that they are nice and soft. Because you need a very hot wok, stir fries at home need to be cooked in stages to retain the heat in the wok.
Crispy Noodles:
4 ea bundles of thin dried egg noodles
2 Tbsp York Foods lard, melted
Bring a large pot of salted water to a boil. Add noodles and boil for 4 minutes or until just cooked. Drain and rinse well under cold water. Drain well.
Transfer noodles to clean tea towel and wrap to help dry. Let sit for about 5-10 minutes, the longer the better.
Preheat oven to 220°C. Place noodles into a bowl and coat with the lard then place onto a baking paper lined baking tray making sure they are as flat as possible. Place into the oven for about 7 minutes to crisp.
Flip over and continue to crisp a further 5 minutes. The noodles need to be crispy. Keep cooking longer if required. Transfer noodles to a warm serving platter.

Slurry:
2 Tbsp oyster sauce
150 ml chicken stock
2 tsp cornflour
1 Tbsp soy
2 Tbsp shaoxing wine
¼ tsp Sichuan peppercorns, ground
1 ea garlic clove, finely grated
2 ea green onion, sliced thinly on the bias
¼ tsp salt
Pinch white pepper
Combine all slurry ingredients in a small measuring jug or bowl and set aside.
Stir Fry:
4 Tbsp York Foods lard
½ ea onion, thinly sliced
½ ea red finger chilli, seeds removed & finely sliced
10 g ginger, peeled & finely chopped
75 g oyster mushrooms sliced or torn into 1cm pieces
4 ea dried shiitake mushrooms, rehydrated in water
200 g roast Chinese bbq pork, thinly sliced
1 ea package of baby corn, cut on the bias into 1cm pieces
6 ea snow peas, top and tailed and cut thinly on the bias
1 ea stick of young celery (the inner pale part) cut thinly on the bias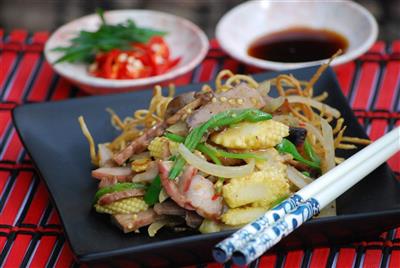 Stir Fry Method:
Squeeze excess water from shiitakes and cut into thin strips. Set aside.
In a wok on a medium heat, fry the onions, chilli and ginger in 2 tablespoons of the lard until soft and fragrant (about 5 minutes). Remove from the wok and set aside.
Wipe out any residue from the wok and return to a high heat.
Add the other 2 tablespoons of lard and allow the wok to get to a very high heat. Add baby corn, then both mushrooms and cook for about 2 minutes. Add all other ingredients including the pre-cooked onion mix and cook for about 3-4 minutes stirring constantly.
Add slurry and cook for about 2-3 minutes to thicken and to cook out the raw taste of the corn flour.
Place the crispy noodles on a platter and spoon the stir fry in the centre.