Serves 4-5
These are the bee's knees of roasted potatoes. The type of potato really makes the difference. Seek out Kestrel or King Edward potatoes for best result. They have a purple eye or try Desiree if you are in a pinch. These spuds make a great side to anything, or simply enjoy as a snack. You may substitute any of Yorks Foods fats including lamb dripping, beef dripping and lard to have a range of flavours best suited to your meal.


You will need: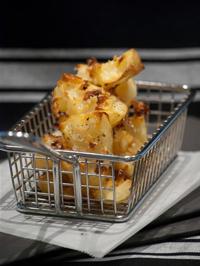 7 ea large King Edward or Kestrel potatoes, scrubbed but not peeled
3 Tbsp York Foods Wagyu Oil
1 ½ Tbsp cooking salt
Flaky salt and pepper
• Cut potatoes in quarters and place in a pot of cold water. Salt well and bring to a boil. Cook until fork tender.
• Drain well and place on a baking tray lined with baking paper skin side down.
• Lightly crush the potato a little and gently flatten using a fork or a potato masher and drizzle with wagyu oil. The crushing will give you the best crunchy bits. Season generously with flaky salt and fresh ground black pepper.
• Place in a 220ºC oven to bake for about 20-25 minutes. The potatoes should be golden and crisp.