Makes 10 pies
York Foods Wagyu Oil makes the most flavoursome pie crust. It is also used in our pie filling to assist with browning of the meat and adds heaps of flavour to the filling. This recipe makes 10 individual pies that can be frozen once made and easily reheated in the oven for a simple, mid-week meal. Both the filling and the pastry can be made in advance and assembled once both are fully chilled. You may add mushrooms if you wish. Just pop them into the filling mixture during the last 30 minutes of cooking.
Beef Pie Filling:
1 kg beef chuck (wagyu beef is best if you can get it) diced into 3-4 cm pieces
70 g plain flour
50 g York Foods Wagyu Oil
250 ml good red wine (something you would drink)
750 ml water
2 tsp cooking salt
1 ½ Tbsp caster sugar
½ tsp white pepper
1 ea fresh bay leaf
100 g finely diced onion
2 ea large garlic cloves, peeled & diced small
To Finish:
1 tsp chopped fresh thyme
2 Tbsp chopped flat leafed parsley
2 tsp cornflour mixed with 1 tablespoon of cold water
• Heat a large casserole or deep sauté pan over high heat. Meanwhile combine the diced beef with the flour and toss together in a freezer bag to coat.
• Add the wagyu oil to the hot pan.
• Add in the beef pieces and cook until at least 2 sides are a deep brown colour. The darker the better as the caramelisation will give your pie great depth of flavour. If your pan is too small, be sure to do this step in two batches. Chefs Tip: Don't worry if the meat sticks a bit as those lovely bits will come off when you add the wine or water.
• Once the meat is well browned add the red wine. Be sure to scrap all the stuck on bits off with a spatula at this stage.
• Add the remaining ingredients and stir well to combine. Simmer very gently for about 2 ½ hours, stirring occasionally to prevent sticking. The meat will be lovely and tender when ready. If the sauce is too runny at the end of cooking, thicken it with the cornflour and water mixture. Add in the fresh herbs and remove from the heat. Spread out on a tray and cool in the fridge. Once cold, you may fill the pies.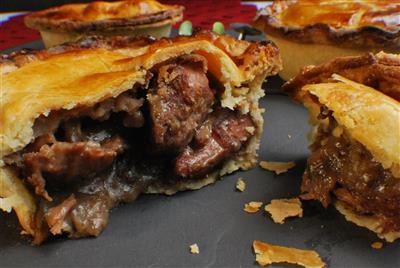 Wagyu Oil Pie Pastry:
450 g plain flour
¾ tsp fine salt
90 g York Foods Wagyu Oil
250 ml water
• Place flour and salt in a large mixing bowl.
• Melt Wagyu Oil in a small saucepot over medium heat. When fully melted add water and stir to combine.
• Remove saucepot form the heat and immediately pour the oil and water mixture into the flour all at once.
• Stir briskly with a fork to combine pastry. Remove from the mixing bowl directly onto an un-floured bench. Quickly give it a light knead to bring the pastry together. Do not overwork it!
• Wrap the pastry in plastic and chill for 15 minutes before rolling.
Assembling and Cooking the Pies:
• Make an egg wash by whisking one egg yolk and 3 tablespoons of pure cream or milk.
• Use 10 centimetre foil pie tins for this recipe. Divide the pastry into 5 equal pieces. Divide each of those in half. This will be enough pastry for the top and base of one pie. Divide that into two pieces and carefully roll each out to a 4-5mm thick round. Line the base of the pie container leaving an overhang.
• Fill each pie with 110g of cold filling. Brush the edges with egg wash and lay a top of pastry over the filling. Gently seal with the back of a fork. Carefully trim the edges of overhang.
• Brush with egg wash and poke a small hole in the centre of each pie. Refrigerate while finishing the remaining pies.
• Preheat oven to 200°C. If you have bottom heat and fan-forced, that will bake the best.
• Place pies on a baking tray and brush again with remaining egg wash. Place on the bottom rack in the oven.
• Bake for about 30 minutes or until deep golden brown.
• Remove from oven and cool 4-5 minutes before removing from foil pie tins.