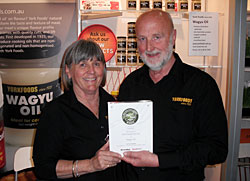 Goulburn business, York Foods has won the award for Best New Retail Product at the Fine Food Australia show in Sydney this week for its Wagyu oil product. Winning this prestigious award will help promote York Foods to a wider audience in the food industry.
York Foods was one of a group of 16 businesses from regional NSW that showcased their food and beverage products on the Flavours of NSW stand funded by NSW Trade and Investment.
Exhibitors on the NSW stand were aiming to secure deals with domestic and international distributors, local retailers including delis, gourmet stores and supermarkets, as well as pick up business in the hospitality and food service industry.
York Foods from Goulburn has been feeding the world since 1935 and was a key supplier of beef dripping for Britain in the Second World War. The company's products now include Wagyu oil, beef dripping, pork lard, and mutton fat for use in cooking.
For more information on York Foods Pty Ltd, go to www.yorkfoods.com.au
Fine Food Australia is the nation's largest food and hospitality industry event. Fine Food Australia usually attracts around 24,000 trade buyers from the retail, food service, hospitality and manufacturing sectors.
Fine Food Australia was held in Sydney from September 5-7. For more information on Fine Food Australia, visit www.finefoodaustralia.com.au