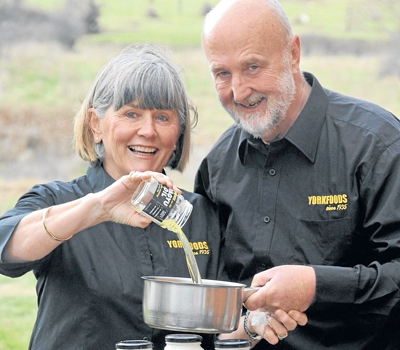 IT TURNS out there was a reason our parents and grandparents cooked with fat – it tastes better.
And specialty manufacturers of animal origin cooking oils, family-owned and operated company, York Foods, has figured it out and is turning fat into the new black with their gourmet range of animal oils.
Launching their new Wagyu Oil at next week's Sydney Royal Fine Food Show, York Foods, based in Goulburn on the Southern Tablelands, isn't new to the oil business, with Edward Morrish Philpott having established the company in 1935.
Still operated by Ted and Lynne Philpott – the third-generation "fat makers" to run York Foods – the Wagyu Oil is a new specialty product aimed at anybody who cooks with any type of oil.
The unique oil is extracted from Wagyu beef and according to Mr Philpott, crosses the boundaries between an animal fat and oil.
Known as a beef breed with superior eating quality, the Wagyu traits are passed on in the oil.
The high meat quality of the Japanese originated Wagyu is achieved because the breed has a genetic predisposition to layer or marble fat throughout its muscle.
And the Philpotts have realised the benefits of using this fat as a cooking base.
The Wagyu fat is unique because of its higher proportion of unsaturated to saturated fatty acids – which makes the meat more tender and juicy.
Previously involved with the Wagyu breed, Mr Philpott said the launch of the oil was the culmination of many years of research and development.
While they didn't breed their own Wagyu cattle, the raw material was bought in and was extracted only from Australian Wagyu beef.
Made in "virtually the same way my grandfather made animal oils", Mr Philpott said the oil was manufactured in the old-fashioned way to avoid changing the molecules too much.
The Wagyu Oil is manufactured under strict export-quality guidelines set out by Australian Quaran-tine and Inspection Service (AQIS) at the York Foods factory in Goulburn, making the product 100 per cent Australian made, pure and natural.