If you ask any good chef they'll tell you that when it comes to making light, delicious, flaky pastry it has to be made using lard or dripping. For too many years we've been told that shortenings like the american Crisco product are much the same thing but this couldn't be further from the truth. If you want scrumptious flavour you can't go past this good old fashioned traditional favourite.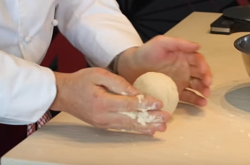 Most recipes for shortcrust pastry call for a combination of both butter and lard which adds an additional flavour boost while taking advantage of the lards special texture and higher melting point. For puff pastry on the other hand, most chefs tend to stick with just lard or dripping which is the way it's traditionally been done for hundreds of years and produces superb results.
We recently shared with you a video showing you how to make your own shortcrust and puff pastry at home. Chef Chistof uses beef dripping to make a delicious puff pastry and lard for a lovely shortcrust which he uses to make an incredible pork pies. Check it out below.
Chef Christof says he loves to use fat for several reasons: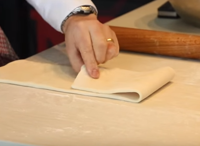 Use the fat of the animal to cook the animal - if you're cooking a pork pie then shortcrust with lard is the perfect combination
Flavour - it's much better to use animal fat than other kinds when it comes to flavour
Popular chef Heston Blumenthal has been quoted saying how he much he loves using beef dripping in his cooking 'I use beef dripping every time'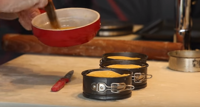 Making pastry is really much more simple than you'd expect. Of course it takes a little time and love than just buying ready made sheets from the supermarket, but the incredible flavour (not to mention bragging rights) you'll get when you make it yourself as well as knowing exactly what's going into your body will make the effort well rewarded.
What are our perfect pastry tips?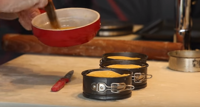 Don't overblend the lard or dripping and the flour. You want to see those delicious flattened out bit of fat in there. They're what makes the pastry flaky!
Make sure your water is ice cold
Make sure your lard is cold but not frozen solid. You need to be able to manipulate it
Remember that if you're adding butter as well as lard the pastry will be heavier than if you just use lard
Keep your hands cool if they tend to run warm
Chef and food stylist Jennifer McLagan's new cookery book even starts with "I love fat," as she remembers growing up in the 1960's here in Australia with a fridge full of butter, dripping and lard. *
So from humble grandma's cooking up a storm to award winning chefs and authors, everyone is in agreement that when it comes to unbeatable flavour and the flakiest pastry around, you can't look past dripping and lard!
*excerpt from http://www.independent.co.uk/life-style/food-and-drink/features/fat-is-back-rediscover-the-delights-of-lard-dripping-and-suet-1642912.html